The University of Arizona at the Sierra Vista Campus and in Douglas are part of Arizona's Near You Network that offers upper-division, bachelor-degree coursework and a variety of continuing education programs designed to meet the workforce needs of regional industry. The college of Applied Science and Technology and the College of Education provide local, tailored degrees to meet the needs of Southern Arizona employers and to pathway seemlessly from Cochise College programs.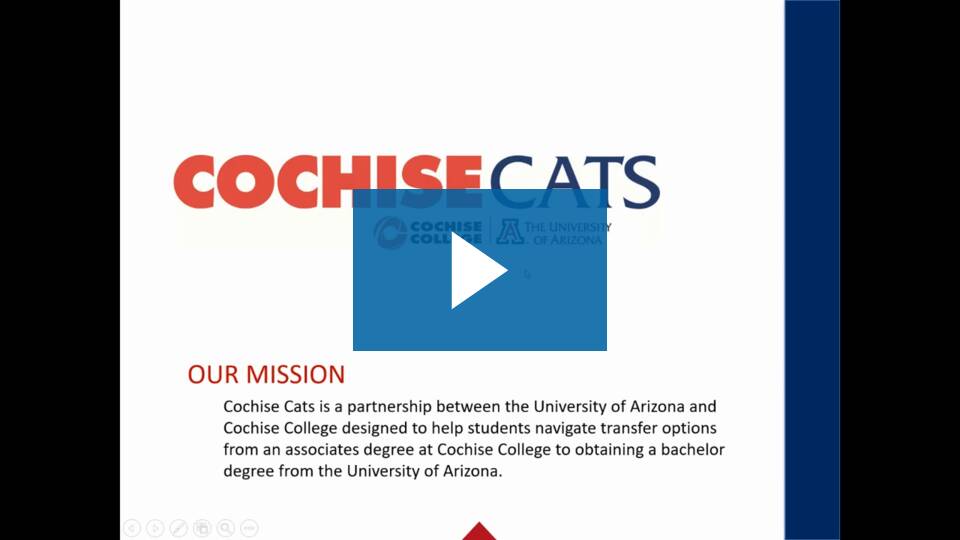 To ensure a smooth transfer from Cochise College, check out your local Transfer-Out-Programs. You can also choose to complete two-year degrees and transfer to the University of Arizona Tucson Campus or Arizona Online, via transfer pathways found on Degree Search. In addition to communicating with your Cochise College advisor, we recommend that you speak with a UA advisor about your goals at least one year prior to your planned enrollment term at the University of Arizona.
Sign up today to be contacted by Cochise Cats representative, or reach us by email or phone.
Email us
nearyou@arizona.edu
Call us
520-626-1702